AFFILIATED WITH THE N.O.S.S.H (*)
(*) National Organisation of Supply & Services of Health > i.e. quoted in Greek as "Ε.Ο.Π.Υ.Υ"
Our provided medical services, are covered, almost entirely, from the national public insurer N.O.S.S.H (Ε.Ο.Π.Υ.Υ. in Greek, as mentioned * above).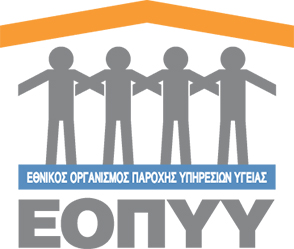 Hence, the insured N.O.S.S.H.'s beneficiaries participate, in terms of their requested examination expenditure, only to the amount concerning to their co-payment percentage, as stated in the Official Government's Newspaper (i.e. "Φ.Ε.Κ." in Greek).
Furthermore, the N.O.S.S.H.'s insured beneficiaries, are entitled to undergo tests of high innovativeness, at preferential low rates.