Iodine Therapy
Our clinic has 5 bright, fully shielded single radiotherapy rooms. Each room has a bed, toilet with bathroom, other special hotel equipment, closed circuit monitoring of patients 24 hours by qualified nursing and medical staff. In addition, it has a telephone, television, radio as well as wireless and wired internet connection.
There is a γ-radiation measurement system in the rooms for daily whole-body measurement of the patient's γ-radiation at a certain distance.
In the 21 years of operation of the clinic, we have treated at least 9000 patients suffering from thyroid cancer (adults and children).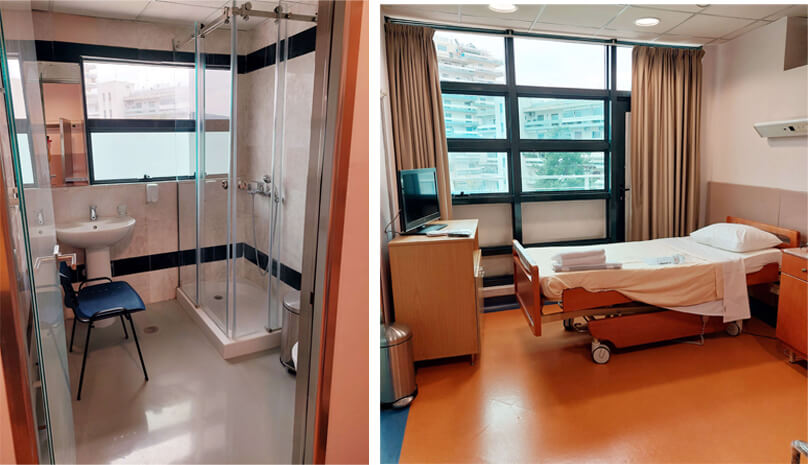 The patients undergo all the examinations provided by the treatment protocols (uptake measurement, whole-body scintigraphy with I131, whole-body post-treatment scintigraphy), as well as any other examination required to monitor the progress of the treatment.
In addition, the rooms can accommodate patients who need treatment with I-131 for other benign thyroid diseases (hyperthyroidism, Graves' disease, etc.).
Analgesic therapy with short-lived radioisotopes for the relief of pain from bone metastases as well as targeted radioisotope therapy with radiolabelled somatostatin analogues.
Patients can contact the I-131 clinic and treatment department at 2106796267. The doctor contacts you and makes an appointment to inform you about the treatment procedures, in collaboration with the treating endocrinologist.
Head of Department: Vasilios Voliotopoulos, Nuclear Physician.